Four Winns Boat Dealer in Missouri:
Four Winns Boats for Sale
Four Winns Boats Listings
---
A Wide Selection Of Four Winns Boats
About Four Winns Boats
Are you searching for a boat manufacturer that combines high end sophistication with performance in Missouri? At Hughes Marine, we are an authorized, family owned Four Winns dealership that sells bowrider, deck, surf, outboard motor, and sterndrive boats to boating enthusiasts. With a tight knit, talented, and highly professional team leading our way, we've curated an exclusive inventory of Four Winns boats that are perfect for both watersports activities and recreational use with your friends and family in Missouri. From fishing, cruising, waterskiing to wakesurfing in Missouri, a Four Winns boat is perfect for it all.
Visit Our Four Winns Bowrider Boat Dealer — Hughes Marine
A popular choice amongst seasoned pros and beginners, bowrider boats are known for their versatility. A Four Winns bowrider boat fuses elegance, comfort, sportiness, and easy handling in an admirable mix, making it the ultimate option for those in Missouri. With a bowrider boat, passengers can soak up the sunshine, enjoy picturesque views, and indulge in thrilling marine adventures. So, whether it's a used Horizon 260 Rs that takes you along a beautiful ride or a new Horizon 290 that is carefully engineered for enhancing your boating experience, our bowrider boat dealer has just what you need.
Buy a Used or New Four Winns From Our Deck Boat Dealer
A deck boat offers ample deck space, a great deal of functionality and comfort, and is known for being flexible, making it an excellent option for distinctive types of boaters. Equipped with features, such as a self bailing cockpit, a stern lounge, a head compartment, a luxurious interior, hand stitched upholstery, and more. Four Winns deck boats are the perfect companion for endless rides. Visit our deck boat dealer in Missouri to buy an HD3 or an HD3 OB.
Reimagine Your Experience with Used Surf Four Winns Boats for Sale in Missouri
Four Winns surf boats embody the spirit, passion, and energy of a wakesurfer in Missouri. Built to be one of a kind boats, Four Winns surf boats combine together elegance, sports performance, luxury, and versatility in a mix that will truly elevate your experience. From an HD3 SURF that exceeds your expectations with its exclusive Volvo Penta® forward drive system to an HD5 SURF that can easily become any wake sport enthusiast's most prized possession, Four Winns boats are designed to delight riders in Missouri.
Make Boating Shopping Stress Free by Visiting Hughes Marine in Missouri
An outboard motorboat offers more space, fuel efficiency, and performance yet requires low maintenance. Suited for entertaining a large group of family and friends when you hit the water in Missouri, Four Winns boats for sale are certainly lighter and nimbler. So, consult our team in Missouri and opt for an H2 OB, H4 OB, or an H 290 OB if you want a boat that offers convenience and better corrosion resistance.
Want a Used Sterndrive Boat in Missouri? Choose Our Four Winns Dealership
A sterndrive boat offers an unobstructed view, optimal fuel economy, better handling, safety features, and ultimately more horsepower. A Four Winns sterndrive boat is a fusion of an innovative, patented stable vee® hull design that clings to the water in tight turns and is symbolic of a thoughtful design process. From seating that converts from sun pads to lounge seats to its deep reach ladder, a Four Winns sterndrive boat delivers comfort at each step. To discuss your budget and lifestyle needs, get in touch with our team in Missouri.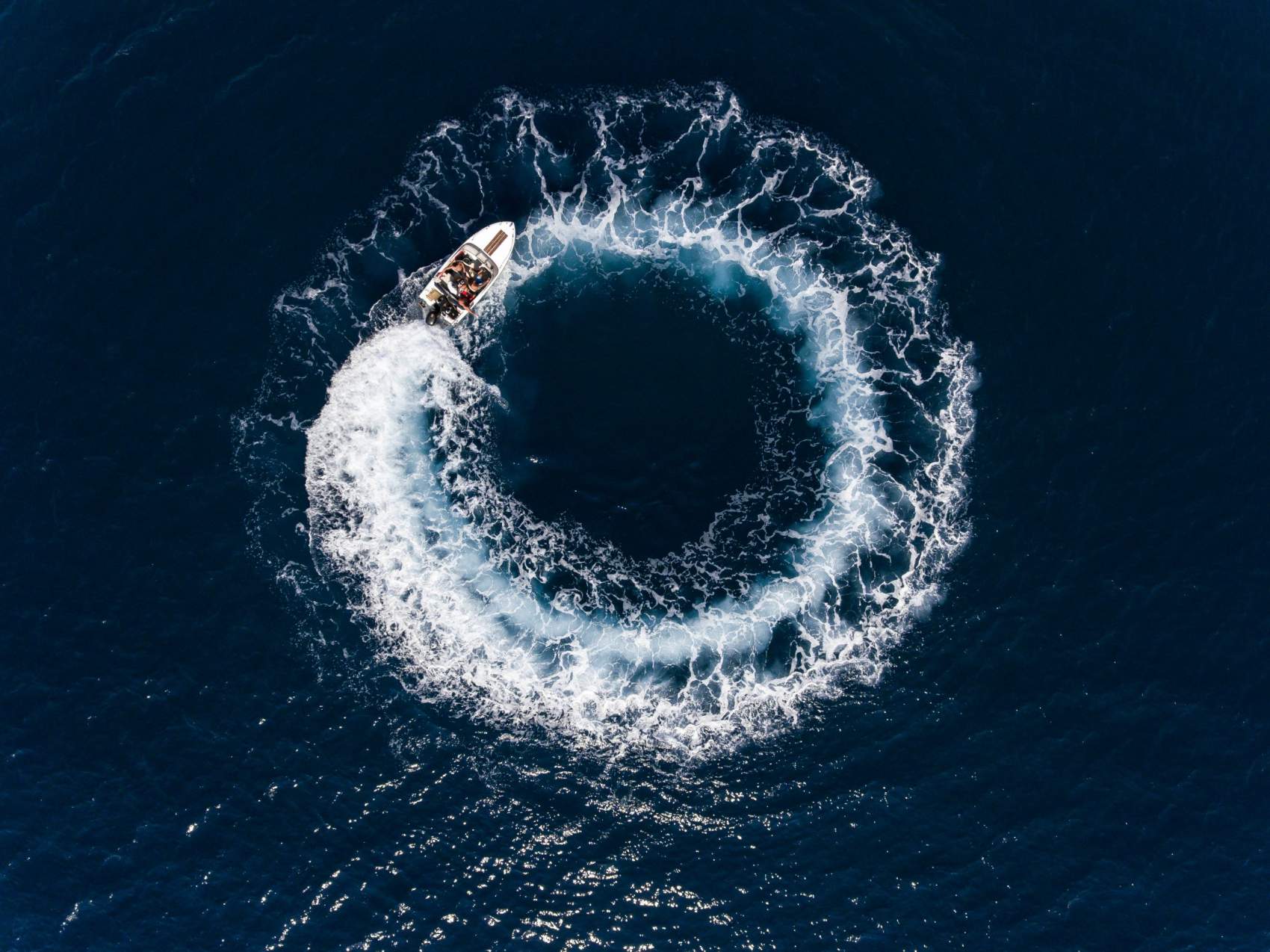 Settle for Nothing Less Than Perfection When You're Out on the Water
---
Hughes Marine is a family-operated and owned business excited about all the boating possibilities for our customers. As an authorized dealer for Centurion, Supreme, and Four Winns Boats in Missouri, we have been serving boaters just like you for years. We're proud to provide our customers with both new and used wakeboarding, wakesurfing, all-around — and even pontoon — boats. Plus, we have a fully stocked pro shop loaded with all the accessories, apparel, life jackets, and lake toys you'll want or need for a perfect day out on your boat.